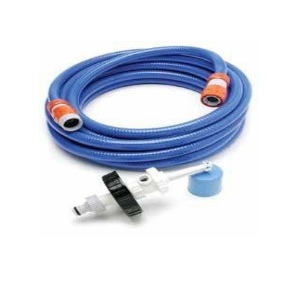 This kit is designed to fit either the 29 litre or the 40 litre Aquaroll
with the side opening cap.
This enables you to connect to a mains water tap on site & have the Aquaroll
permanently half full so you never run out of water.
The kit contains:-
Aquaroll ball valve.
7.5 metres of reinforced food quality hose.
Choice of 1/2″ or 3/4″ snap-on threaded tap connections & snap-on stop
connection to ball valve.
Please note that this is only designed for Aquarolls with the side cap – not
other makes of roll along water containers.